18th April 2020


Bifocal dive mask lens gallery
Recently, I published a post on different bifocal scuba mask options, but I wanted to create a post with more images, so you can see examples of more options for bifocal lenses in your mask or when ordering a mask from us. Bifocal lenses correct distance vision as well as providing an add power for the near vision section. No more struggling to see your gauges or dive computer. Our prescription dive mask lenses- made custom to your prescription can be produced in as little as three days with rush fees (standard processing is 2-3 business weeks. for more information on our rush options, click here). 
Standard and ST35 Bifocals
Below are images of standard and ST35 bifocal masks. The main difference between the two bifocal types is the ST35 gives the diver a bit more near vision room. 
Franklin Bifocal dive masks
Franklin bifocals are custom made by hand in our lab in Houston, Texas. The Franklin is the ultimate custom option for divers that want the most room for near correction. The franklin is fully custimizable, so divers can choose exactly what percentage of the lens they want for near and distance correction. Professional photographers often have more than 50% of the lens corrected for near and only a small portion for distance as the majority of their time is spent looking at a monitor or camera controls within arm reach distance. 
Another benefit of Franklin bifocals are for those with strong corrections. We can achieve an overall thinner lens design by using high index glass for both distance and near lenses in the mask. 
Franklin orders are not available online, and divers should call for pricing. 
If you need any help deciding what dive mask would work best for you or what lenses will work with your prescription, don't hesitate to reach out to us. Stay safe and Happy Diving!
-Josh & The Team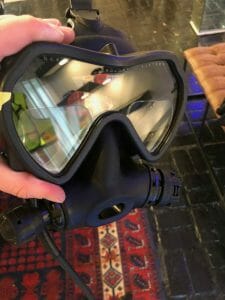 Prescription dive mask concerns for photographers and cinematographers                One of my personal passions, since I started scuba diving
Read More »
See the sea rx, diving the cenotes One of the joys of being in the diving industry is diving! Unfortunately, we have to ensure our
Read More »
Single vision prescription dive mask examples Single vision lens dive masks are used to correct distance vision while scuba diving or snorkeling. If you have
Read More »