7th March 2021


Why full face diving masks
If you need to use communication systems, dive in possibly contaminated water, or just want the ability to breathe through your nose, full face diving masks (or as Oceanreef calls them – IDMs or integrated diving masks) offer several unique features over traditional dive masks. While they may appear intimidating to use at first, full face dive masks are fairly simple to use, WITH the proper training (interesting aside, PADI now offers a full face mask specialty, but before they did, myself and other instructors who wanted to issue full face specialty certifications had to prepare our own course materials and receive a unique specialty instructor certification from PADI). 
If you want to dive with a full face face mask and need corrective lenses, See the Sea RX, the leader in prescription dive masks,  can help ensure you see clear. Full face dive masks should not be confused with full face snorkeling masks, which can only be used at the surface.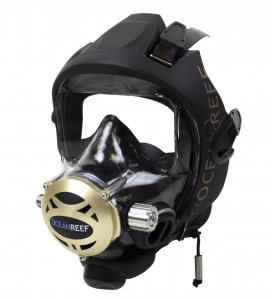 If you need prescription lenses for any of the following masks, we have you covered:
Oceanreef GDivers
Oceanreef Iron
Oceanreef Space Extender
Oceanreef Preadator Extender
OTS Guardian FFM 
OTS Spectrum FFM*
Full Face Dive Masks can be made with all the lenses we make in traditional dive masks including bifocals, single vision, lenses, high index single vision, and readers (plus a few options specific to full face masks like progressive lenses and color correcting lenses).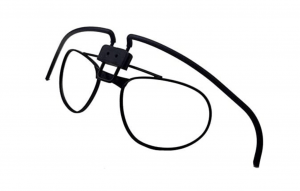 Both OTS and Oceanreef use proprietary lens retainers that clip inside their masks. The lens retainers are not interchangeable between the two main manufacturers of full face diving masks, but the lens retainers are generally moveable between masks of the same manufacturer. The OTS lens retainer (optical lens kit) is $99 plus lenses while the Oceanreef Optical Lens Support 2 is $38 plus lenses. Unlike our traditional dive mask lenses which we produce in glass, (yes actual glass), full face mask lenses are generally produced in polycarbonate or other similar materials (which allows for cool options like the color correcting tint on the OTS lenses seen in the picture above).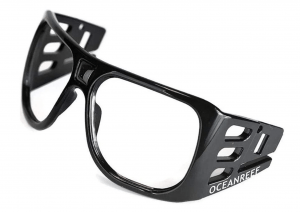 While the lenses are composed of a different material than our traditional dive masks lenses, they are still available in the same corrective options such as:
-Bifocals. Bifocals are used for divers which need help seeing both near and far vision (seeing the dive site & need help seeing their gauges).
-Single Vision & High Index Single Vision. These lenses are generally produced for divers that need help with their farsight which includes correction for astigmatism (unlike stock lenses, our lenses are made custom and DO correct for astigmatism) and prism (for those that have strabismus or see double).
Prescription lenses for full face diving masks can also be updated if your prescription changes.
how to order full face diving mask prescription lenses
At this time, we do not have online ordering set up for full face diving mask lenses (we do have online ordering for full face prescription snorkel masks). To start the order process, give us a call at 1800-356-7190, or email us (info@seethesearx.com). As an authorized Oceanreef dealer, we can also build you a lens and IDM mask package. 
While the OTS Spectrum* is a full face diving mask, it is built a little differently than the other FFMs from Oceanreef and OTS, it has a glass flat lens front. We can install lenses on this mask (and have done so such as the custom photographer reading lenses installed on the mask to the right), but the lenses are glass and do not use the lens retainers. The OTS Spectrum is more similar to a traditional dive mask in this regards than an FFM. 
Color correction can be added to all full face mask lenses (except the OTS Spectrum) but is not suggested for photography. For other divers the specially designed tint can help increase the color range at depth when most red light has been absorbed. 
Our lab produces full face masks lenses a bit faster than our traditional dive mask lenses as they do not have to be tempered like glass lenses. Our typical turn around is about a week, and rush options are available.