13th June 2019


While our team at See the Sea RX has been shipping prescription scuba diving masks across the globe, we often get requests from snorkelers, who love being in the ocean as much as us. Some snorkelers love our prescription dive masks, but we also get questions about:
Prescription full face snorkeling masks
A more affordable product than our custom glass prescription dive masks
If you are ready to order an Aria full face snorkeling mask with or without prescription lenses, give us a call at 1-800-356-7190 or 281-800-3131.
We are excited to announce we have partnered with OceanReef, leaders in full face scuba diving masks & the first to market with a full face snorkeling mask, to offer our snorkeling customers who want an alternative to a traditional prescription dive mask an affordable quality option.
Utilizing the Aria & Aria QR+ full face snorkeling masks, a lens retainer, and advanced lenses matched to your exact prescription, we are able to provide snorkelers (even those with extreme prescriptions)- a more affordable options for crystal clear vision while in the water.
Here is a short video of my nephew Gabriel, trying out the Aria kids mask this last weekend:
Jennifer sent us these pictures of her son, Cameron, using his new Aria mask from See the Sea RX with custom prescription lenses on their recent trip:
Cameron showing off his Aria full face snorkeling mask with prescription lenses in the Caribbean.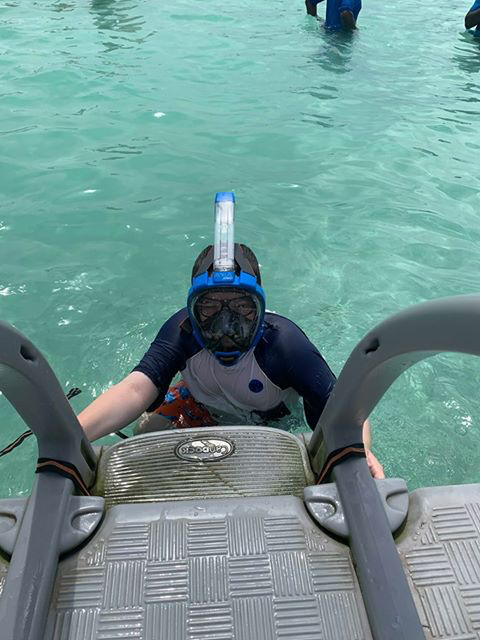 If you are interested in purchasing the Aria or Aria QR+ with or without prescription lenses, please give us a call at 281-800-3131 or 800-356-7190. We will shortly launch them on the See the Sea RX website, but in the meantime, we are able to get you set up over the phone.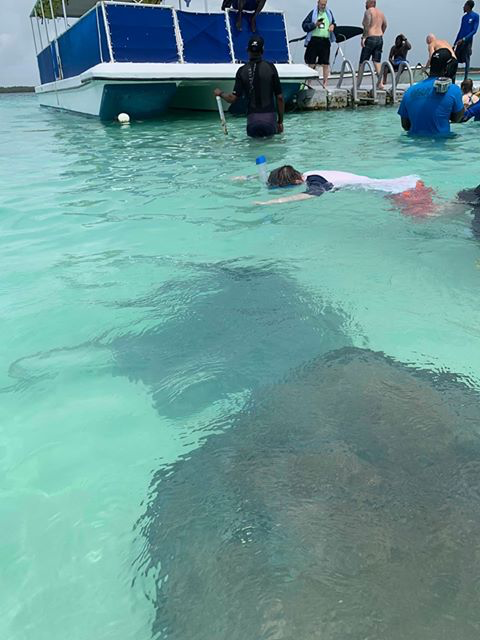 The Aria & Aria QR+ Snorkeling Masks
If you do an online search for full face snorkeling mask, or even snorkeling mask, you will see hundreds of products at various price points. Does it matter which mask you get? The short and correct answer is YES!!!
Oceanreef has been in business since the 1940's and using their manufacturing knowledge of full face snorkeling masks, they produce one of the first full face snorkeling masks. Producing a snorkeling masks presents more challenges than many expect, and ensuring proper gas exchange is crucial. What is the difference between an $80.00 full face snorkeling mask and a $15.00 Chinese manufactured clone? Ease of breathing and gas exchange. There have been reports of cheap masks improperly or inefficiently removing carbon dioxide leading to serious incidents. I would not allow my family to snorkel with the knockoff masks, but I quite happily gave my nephews the aria masks to snorkel with (you can see Gabriel snorkeling with the aria kid's mask in the video up top).
The Aria masks have been vetted and fully tested by Oceanreef. What are the differences between the Aria (classic) and the Aria QR+? We do offer both masks for our customers, but the primary difference is the QR+ includes a built in go pro mount (available as an add on for the Aria classic) as well as buckle straps for quick removal without having to adjust the straps when donning the mask.
Snorkelers report less jaw fatigue when using the Aria or Aria QR+ as they enable the snorkeler to breathe through their mouth or nose without having to bit onto a snorkel. This can also provide an easier experience for snorkelers who just cannot tolerate a snorkel in their mouth.
Aria Snorkel Mask Prescription Lenses:
One of the main benefits of the Aria full face snorkeling mask for our customers, besides its exceptional build quality, is our ability to insert prescription lenses via an optical retainer for a lower cost than our traditional prescription dive masks.
Our custom (not pre-made) lenses for the Aria can accommodate all prescription corrections including:
Astigmatism
Extreme prescriptions requiring high index lenses
Prism
Additionally, as our lenses are custom, we can provide our customers bifocals, progressive lenses, or even tinted lenses for those that are sensitive to light.
Call us to find out our current specials on the Aria Full Face Snorkel Mask with and without prescription lenses: 1-800-356-7190 or 281-800-3131.
How tp pick the correct size Aria Full Face Snorkel Mask
The Aria Snorkel Mask is available in various sizes. In order to pick the correct size, check out the reference image below:
If you have any questions about how to measure correctly, don't hesitate to give us a call or shoot us a message on the chat to the bottom right of your screen.
How to buy the Aria or Aria QR+ Full Face Snorkeling Mask with prescription lenses.
See the Sea RX sells the Aria and Aria QR+ snorkeling masks with and without prescription lenses. Discounts are available for multiple mask orders.
Give us a call at 1-800-356-7190 or 281-800-3131 to order your mask today.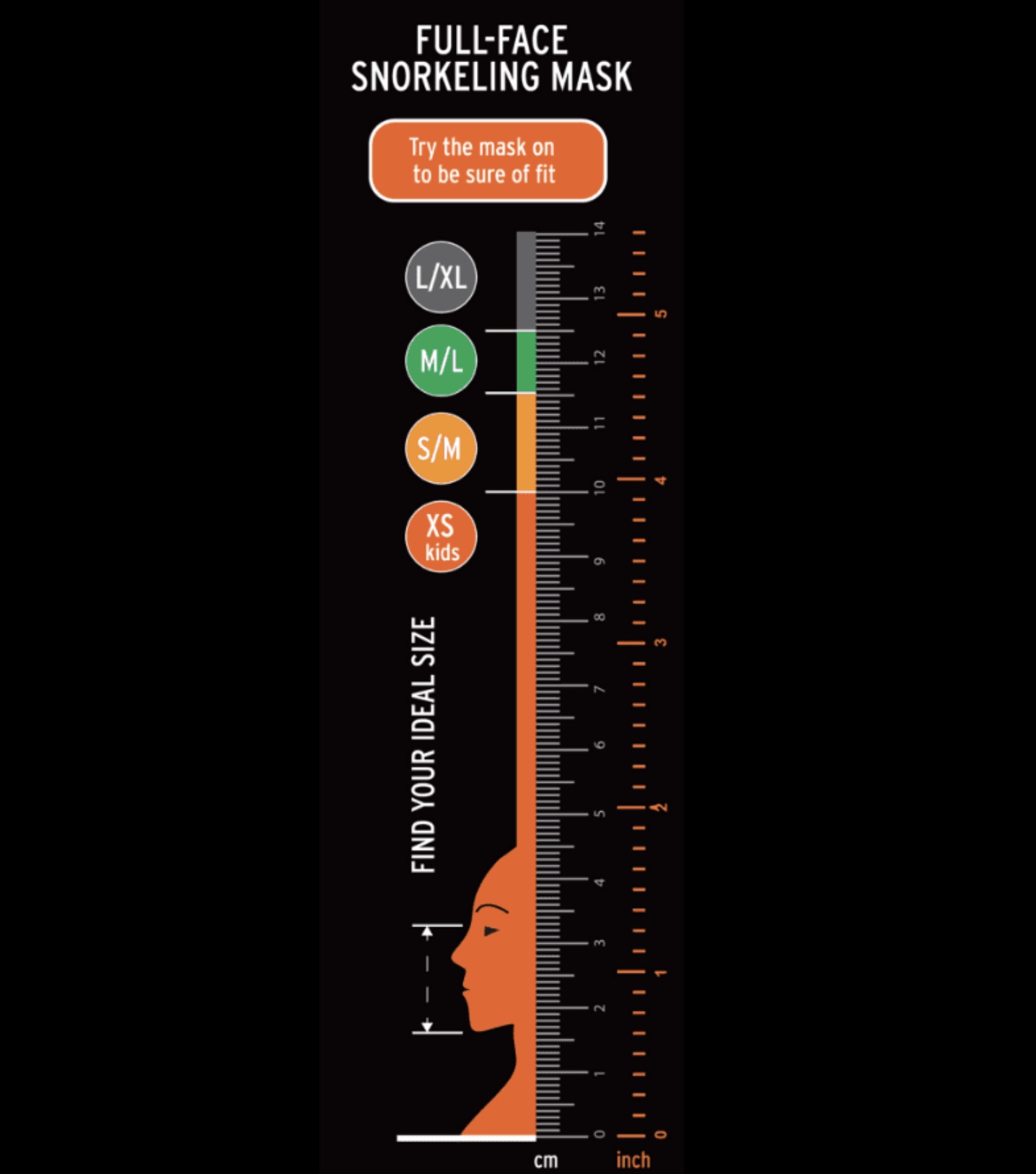 Available Accessories
The Aria is available with a variety of accessories including:
Snorkel Talkie- Mask to Mask communication device
Go Pro Mount
Matching Fins
See Clear with See the Sea RX
– Josh & The Team