21st October 2019


Prescription Lenses for Atomic Masks
Atomic Aquatics Masks
Founded in 1995, Atomic Aquatics is a premier manufacturer of dive equipment based in California. We often receive requests from customers about purchasing prescription lenses for Atomic dive masks. Atomic prides itself on "Passion, Precision, and Performance".  Atomic produces some of the most popular frameless dive masks on the market. In this article, I will discuss sending in your mask to us to have prescription lenses installed, the different Atomic masks available, and what type of lenses are available.
What type of vision problems can you correct?
At See the Sea RX, we pride ourselves on being low vision experts. Our custom made glass lenses can correct almost all vision issues (which can be corrected with glasses) including astigmatism, nearsightedness, farsightedness and double vision requiring prism. 
We offer three main lens types:
Single Vision Lenses- For individuals who need distance correction, single vision lenses, available in high index for those with stronger corrections
Bifocals- Our most common lens type. Bifocal lenses assist those that need distance and near correction. Bifocals help divers see the sites while also easing their view of their gauges or dive computer.
Reading Lenses- Reading lenses are glass we install in the bottom of the mask for divers who need help seeing their gauges or computer.
Sending in your Atomic Mask for Prescription Lenses
The majority of our fellow divers that come to us for a prescription dive mask, purchase a dive mask from us (including Atomic masks which are now available), but we have some divers that prefer to send us their mask (not a problem at all!). We can insert prescription lenses in any Atomic dive mask including the Frameless, Frameless 2, and Subframe.
How to send us your Atomic Mask for Prescription Lenses:
Complete the order on our order page 
Mark your pupil locations on the outside of the dive mask using a sharpie to ensure the most accurate vision.
Ship your mask to See the Sea RX at 2501 South Shepherd, Houston, Texas 77019.
Popular Atomic Masks
The two main types of masks from Atomic Aquatics prescriptioned by See the Sea RX are the Atomic Frameless Line, the Venom Mask, and the Subframe.
Frameless Masks
According to Atomic:
The Atomic Aquatics Frameless Mask is focused on fit, comfort and a wide vision field. The large lens and close fitting skirt work in harmony to create perhaps the widest viewing angle of any frameless mask design. The lens shape was computer designed to maximize upward, downward and side to side vision. Because an external frame is not needed, the viewable area of the lens is optimized. Squeeze-to-adjust buckles are tucked behind the lens for a sleek hydrodynamic design.
The Frameless line comes in both clear and black skirts and two sizes: Standard & Medium. The medium fit has a skirt designed to fit narrower faces, but the rest of the mask is identical.
Atomic did release a Frameless 2 mask (also available in the two sizes and skirt options) with the main upgrade being the skirt material.
Venom Mask
The Atomic Venom Mask is Atomic's highest quality frameless mask. The main features separating the Venom from the standard frameless masks include higher quality (allegedly clearer) glass and the unique skirt design. Two different rubbers comprise the Venom's skirt including a stiff middle portion to hold the shape of the mask, and a "gummy" rubber where the mask seals around the face.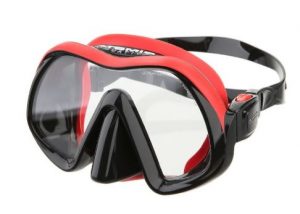 Atomic Subframe
The Subframe is my personal favorite mask for our prescription lenses due to my partiality to twin lens dive masks and the overall durability of the mask. While the frameless dive masks due tend to be the more popular masks from Atomic's lineup, I like the overall build quality of the subframe. The subframe is available in clear and black skirts (and a pink accent for those partial to the color).
Atomic also makes the Subframe available with their ARC (anti-reflective coating) lens, but in general, I do not encourage the ARC lens in conjunction with prescription glass lenses.
My one complaint about the Atomic dive masks, considering their costs, is overall the quality of the cases. I find the tabs break easily, and I carry my Atomic in a case that I purchased separately. (If you are reading this Atomic, you make such awesome masks- can you please send them in a better case!).
Ordering an Atomic Mask with Prescription Lenses from See the Sea RX
While you can send us your mask (and we definitely believe in supporting local dive shops – You can find a list of Atomic Dealers here), we do make Atomic masks available directly on our order page for divers who would prefer to purchase them at the same time.
When you click on our order page, and then "I need a mask", you can select your desired mask of choice. Keep in mind when selecting colors, the "medium fit" masks are designed for divers with narrower faces.
As always, if you have any questions, feel free to give us a call, send us a chat message, or email us anytime.
How long does it take to get your prescription dive mask?
Our standard processing is approximately two business weeks plus shipping once you place your order for prescription dive masks with us, or AFTER we receive your dive mask. Rush options are available including a 3 day turn around (plus critical cargo shipping if needed). We normally close for a week during December and this time is NOT included in our standard processing time.
-Josh
See the Sea RX